Brazilian Blow Dry Keratin Treatment
Do you want sleek, healthy looking hair? Then Top1One has the hair treatments for you.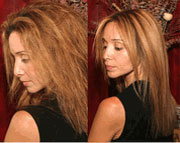 We are proud to offer the latest Brazilian blow-dry keratin hair treatment that repairs your hair from the inside, leaving you with gorgeous, manageable hair.
Many factors including chemical processing, pollution, straightening, blow drying and a poor diet can damage your hair, but a Brazilian blow-dry uses keratin (a natural protein found in the hair, skin and nails) to nourish damaged hair from within.
At Top1One Richmond we offer a leading Brazilian blow-dry treatment by one of the best specialist companies on the market: HairGoStraight. Our professional treatment will restore your hair leaving it soft, sleek and full-bodied.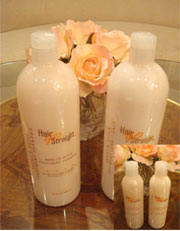 Our staff are professionally trained and will carry out a full consultation before recommending the best strength of Brazilian blow-dry for your hair type.
The products that we use are natural, gentle and non-greasy and will take around 2-3 hours to work. Initially the hair strands are opened using a specialist shampoo before a keratin treatment is applied to repair your hair. Your hair is then dried and straightened and you will leave the salon with gorgeous, manageable hair that smells great.
Our stylists will provide full instructions about how to care for your hair after your Brazilian blow-dry and will recommend the best products to use. Professional Brazilian blow-dry products are available to buy from the Top1One salon.
Whether your hair is damaged, dry, colour treated or curly and difficult to manage, the Brazilian blow-dry will work for you.
Call today on 0208 940 6111 to book an appointment!